all STORIES
10 Trending News Stories for Produce Distributors, Growers, and Shippers
From banana shortages to a new "farm incubator" to new produce packaging being used by America's largest grocery chain, we have the top stories in the fruit and vegetable supply chain covered.
"If more of us valued food and cheer and song above hoarded gold, it would be a merrier world."

- JRR Tolkien

Thank you for subscribing, you rock 👊🏿.
Oops! Something went wrong while submitting the form
Although consumers are usually extremely sensitive to price increase in Bananas, wholesale prices have continued to increase unabated
Raley' s new partnership with the Sacramento Kings will provide "commitment to sustainability" according to Kings president Chris Granger
American produce distributors are currently face restrictions with respect to selling fruits and vegetables to China.
Leading Avocado companies believe that the prices for Avocados will standardize in the coming year and beyond, due to high consumer demand and reliable supply chain production in countries such as Mexico.
Produce supply chain infrastructure in India is slowly improving to support an expanding population.
6. Presidential Visit to Cuba gives hope for increased fruit and vegetable trade with Cuba:
In light of United States President Barack Obama's visit to Cuba in March, speculation on future sales of U.S. produce to Cuban importers has materialized. US Agricultural Secretary Tom Vilsack has granted U.S. companies permission to conduct market research on the Cuban market, but many barriers still exist. Full story on U.S. produce distributor prospects in Cuba >

.
Cuba is a potentially lucrative market for U.S. produce distributors in the future
7. Grape Consumption may reduce the risk of infections, new study finds:
Recent findings by molecular biologists with the Agricultural Research Service's (ARS) Western Human Nutrition Research Center (WHNRC) in Davis, California show that grape consumptions in some individuals may reduce the amount of heart disease-causing fats in the blood and other infections. Full story on potential new grape health benefits >

Grape consumption may help reduce the risk of heart disease, recent studies indicate.
8. Walmart rolling out new produce packaging:
Amidst consumer demands for more eco-friendly packaging, WalMart has agreed to purchase over 30 million boxes of wood grain RPCs (reusable plastic containers) Full story on WalMart's sustainable produce packaging rollout >

Reusable plastic containers modeled after wood crates will soon be utilized nationally in WalMart produce displays.
9. Whole Foods joins Costco in Food Security coalition:
Grocery chain whole foods is joining wholesaler Costco in a coalition to promote transparency with respect to food security in their sprawling fruit and vegetable supply chains. The coalition, called the Equitable Food Initiative (EFI), will help ensure compliance among Whole Foods and Costco suppliers for issues such as pesticide use.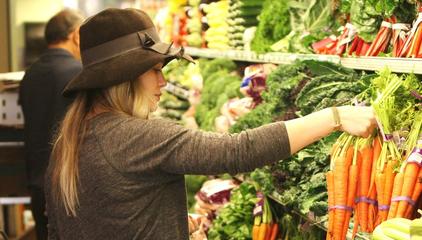 To satisfy consumer concerns, Whole foods is joining Costco in an effort to increase transparency in fruit and vegetable supply chains
10. "Farm Incubator" Dirtworks aims to train a new generation of farmers:
With the average age of farmers across the United States climbing, farm incubator Dirtworks is hoping to train a new generation of farmers. Dirtworks graduates sell their fruits and vegetables to local farmers markets, and many go on to start their own farms following the program, creating new jobs for the local community. Full story on the Dirtworks Farm Incubator >
The average age of a farmer in South Carolina is currently 59 years old, according tot he U.S. department of agriculture. Dirtworks aims to train a new generation of farmers so that they have the skills to create new farms contributing to the agricultural economy.
Thank you! Your submission has been received!
Oops! Something went wrong while submitting the form


Like the article? Don't Forget to Share Below!