all STORIES
10 green technology startups that could be stars in 2017
Injoo utilized artificial intelligence to save energy in large buildings.
Injoo Networks utilizes the existing data currently available through a building's Building Automation System (BAS) and pairs this information with external data from the cloud to predict and optimize energy usage in large buildings.
10x Technology uses cutting edge technology to build products such as pain-free hypodermic needle alternatives
10x Technology specializes in replicating precision microstructures into polymeric and metallic substrates.

They are currently supporting several companies in the development of microneedle arrays for transdermal drug delivery. The platform will enable a pain free and convenient alternative to hypodermic syringes for a wide range of drugs.

Their capabilities include product design, prototype production on pilot plant and full scale manufacturing.
Nexmatix, LLC specializes in air-leak detection and pneumatic technologies.
Nexmatix' technology uses proven spool and body valve construction to recycle compressed air. The technology works by briefly connecting the two downstream cylinder ports during each stroke.
Hszel Technologies' biodegradable FruitBrite capsule reduces produce spoilage in the supply chain
Hazel Technologies reduces agricultural waste by offering unprecedented control of produce freshness at the retail level.

Their patented technology, FruitBrite, is a biodegradable pod that extends the quality shelf-life of produce by 20-40% when stored with the produce in trucks or warehouses in the supply chain.
One of AMF Nano's Sensors, used to monitor pressure and gas levels for industrial applications
AMF Nano Corporation uses patented sensor packaging and communication protocol technologies for real-time remote monitoring and control systems to create "internets of integrated assets".

They offer sensor and software packages that can help monitor pressure and gas levels in containers.
SPLT is a ridesharing app for enterprise employees
A mobile app designed to enable ride sharing for employees of enterprises, the goal of SPLT is to transform the way people meet and move in every major city worldwide.

They want to provide a social, economical and environmental layer to the transportation system to save money, connect people, and help the environment.
Thermolift, based out of Stony Brook University, is developing new HVAC technologies
Based out of the Advanced Energy Center at Stony Brook University and with nearly $5.8 million in funding, ThermoLift has created a natural gas driven air conditioner and heat pump that can replace building heating, cooling, and hot-water systems with a single appliance.

The appliance is an advanced Vuilleumier Heat Pump (VHP) that can provide a 30-50% reduction in building heating and cooling energy consumption and costs, as well as associated reductions in greenhouse gas emissions.
DATTUS specializes in hardware and software that allows for failure-predicting smart machines
DATTUS has developed technology utilizing sensors to detect potential failures in infrastructure and machinery.

The feedback from this network of sensors is aggregated on a cloud-based platform and as a result is extremely easy to manage for customers.
The Dash developed by InnovaEV is a 100% electric powered vehicle
Innova EV is a company focused on 100% green transportation on college campuses and surrounding towns.

Innova's product, The Dash, a 100% electric vehicle, is designed to quickly take students and faculty around campus or town — all while delivering a one-of-a-kind personalized experience.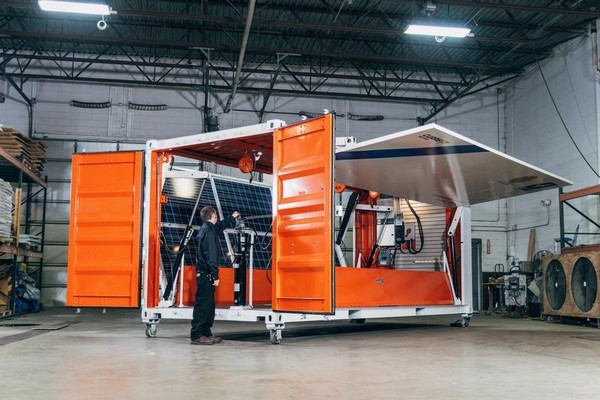 Current Motor's Mini-fleet-in-a-box TM contains 4 zero-emission motorcycles and a full solar charging apparatus
Current Motor specializes in electric vehicles and solar charging station manufacturing. Their Mini-Fleet in a box contains 4 zero emission solar charged motorcycles and is currently being sold to both private and public fleets.

Headquartered in Ann Arbor, Michigan, Current Motor is backed by funding from the State of Michigan, as well as private equity investment including backing from BELLE Capital.


Like the article? Don't Forget to Share Below!